Drill Pipe
Tube Technologies, Inc has an established reputation in delivering best quality of pipes. We've worked with hundreds of customers and have sold thousands of water well drill pipes. We provide solutions that would best cater to the needs of our clients and help them achieve their desired result and target.
Drill Pipe Selection
Tube Technologies offers the above Range of Water Drill Pipe and Tool Joint profiles. We will also be happy to provide any length drill rod required in a variety of optional wall thicknesses, thread connections, and breakout configurations.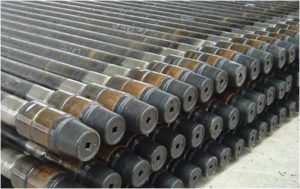 Pipe OD
Wall
Lengths
Threads
Flats
Lugs
2 3/8″
.190, .254, .280
1.5M, 5′, 2M, 3M, 10′, 15′, 20′ 15′, 20′, 25′
2IF, 2 3/8 M Jr
Y
Y
2 7/8″
.217, .276, .362
same
2 3/8 M Jr, 2 3/8 reg,
2 3/8 M Reg, 2 3/8 IF,
2 7/8 2 3/8 M Reg, 2 3/8IF
Y
Y
3″
.156, .188, .250, .375
same
2 3/8 Reg
Y
Y
3 1/2″
.219, .254, .368, .449
same plus 30′
2 3/8 Reg, 2 3/8IF
Y
N
4″
.250, .330, .380, .500
same plus 30′
2 7/8IF, 3 1/2 Reg, 3 1/2 FH
Y
N
4 1/2″
.250, .271, .291, .337, .430, .500, .750
same plus 30′
2 7/8IF, 3 1/2 Reg, 3 1/2 FH
Y
N
5″
.296, .362, .500, .750
same plus 30′
3 1/2 IF
Y
N
5 1/2″
.362, ..478, .500
same plus 30′
3 1/2IF, 4 1/2 Reg, 4IF, 4FH
Y
N
6 5/8″
.330, .362, .475
same plus 30′
4 1/2 IF, 8 1/2 FF
Y
N
7″
.362, .498
same plus 30′
4 1/2 IF, 8 1/2 FF
Y
N