We manufacture premium quality, inertia welded drill pipe to API standards.  Our water well drill pipe is offered in sizes ranging from 2 3/8" OD to 7" OD and in lengths from 1' to 40'. We manufacture our drill pipe and tooling is to OEM specification or they can be specially designed by the customer. Tube Technologies tool joints are crafted from 4140 heat-treated material, and are Inertia welded onto a seamless N-80 mid-body tube.
Inertia Welding technology allows Tube Technologies to offer the strongest and most dependable drill pipe. We use technologically advanced inertia welding machines which allows us to provide the strongest weld in the market.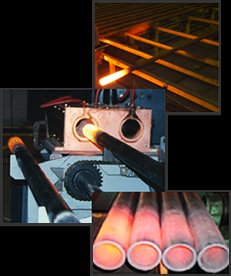 State of the art CNC machines provide exacting precision machined threads. The ability to deliver a precision machined tool joint means you have a stronger, more durable drill pipe that will provide maximum wear life.
Tube Technologies' drill pipe is Engineered and manufactured nearly 100 Percent in house. This enables us to effect comprehensive quality control. We provide prompt customer service and customization in any part of the manufacturing process. Tube Technologies designs a drill pipe that is compatible with many different types of drills. Some of them include…
Ingersoll Rand
Schramm
Failing
Drill Tech
Speedstar
Sandvik
CME
Gus Pech
Gardner Denver
Acker
Atlas Copco
Tube Technologies can perform all three different upsetting techniques – (internal upsetting IU, external upsetting EU, and internal-external upsetting IEU). Upsetting increases the cross-sectional area of the pipe and allow a more robust thread to be machined so the overall pipe strength is increased .
The upsetting process is when you heat up the pipe to a point at which it can be re-formed to increase the wall thickness of the tool joint, and thereby adding strength to each individual pipe. We control the dispersion of the tool joint material to decrease the size of the ID (IU), increase the size of the OD (EU) or both (IEU).
Quality Workmanship
Tube Technologies uses premium grade materials to allow your purchases to last as long as possible. An example of this is the ASE 4140 chromium-molybdenum alloy ("Chro-Moly") which we use for our tool joints. We manufacture our tool joints using a three-step process, which ensures the superiority of our tool joints over the competition.
Every Drill Rod is Processed to maximize its strength and fit
BLANKING
Strips the joint to rough bore and OD dimensions. This allows the subsequent heat-treating process to achieve maximum penetration.
HARDENING
All tool joints are then hardened to 32-36 Rockwell.
FINISHING
The tool joint then goes through one of our precision CNC(Computer Numerical Control) machines for threading.