Down Hole Hammers & Hammer Bits for
Mincon
Mincon Hammers are a superior and versatile Hammer, specifically built for drilling applications where high penetration speeds are vitally important. Their unique design concept delivers much greater impact energy for maximum drilling performance.
Mincon DTH hammers, are noted for maintaining excellent operating pressure over an extended service life.
Call us at 1 800 536 5875 for Hammer and Bit recommendations.
Minimum hole size:
3″ DTH Series 3.375″ (85mm)
4″ DTH Series 4.375″ (110mm)
5″ DTH Series 5.375″ (136mm)
6″ DTH Series 6″ (152mm)
6″ Heavy Duty DTH Series 6.25″ (159mm)
8″ DTH Series 7.875″ (200mm)
12″ DTH Series 12″ (305mm)
Concave Hammer Bit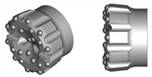 Convex Hammer Bit
Flat Face Flat face hammer bit